Q&A: Ace Frehley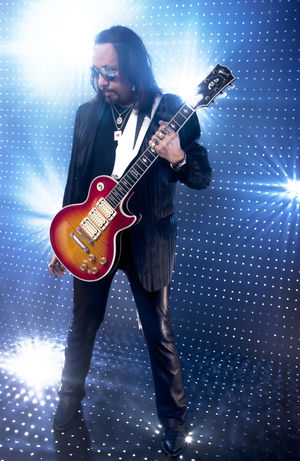 " />
By Matt Kelemen
March 4, 2016
Ace Frehley's public profile may be at its highest since before he left KISS in the early '80s. His 2014 album Space Invader cracked the top 10 on the Billboard 200, a heavy-rotation promo campaign for HBO's Entourage used his 1978 solo track "New York Groove," and an all-covers all-star album titled Origins Vol. 1 is highly anticipated among fans old and recent. Things have never been better for the nine-years-sober, clearheaded and down-to-Earth guitar hero, save for the lack of spare time to finish the follow-up to his 2011 autobiography No Regrets. He spoke recently to Las Vegas Magazine's Matt Kelemen.
How has the past week been, since you announced the upcoming release of your covers album?
Well, it's been a flurry of excitement, you know? The biggest news is that Paul Stanley is singing on the record. All the KISS sites are buzzing over that news, and I think everybody's going to love "Fire and Water" when the record comes out April 15th. All the other songs on there are just as strong. I'm really thrilled with the way the album came out, and Warren Huart, who mixed Space Invader, did a great job mixing this album. It's going to be a very special record, I think.
I imagine your life has been a rollercoaster ride since the news dropped.
Yeah, I did a photo session Friday. That took five hours, a couple of thousand photographs. So I've been weeding through those this week and trying to get the best ones. I've been really busy, but I'm really excited about hitting the road. The tour kicks off in Houston on the 26th.
How much of the material from the covers album are you going to play on your upcoming tour?
We're just going to do one of two songs, because nobody's heard them. The only song people have heard is "White Room" and that's one song I really can't do live because I gotta play wah-wah on that and I can't have pedals on the floor. I trip over them (laughs).
I didn't expect you to play "White Room." Maybe the Thin Lizzy song ("Emerald") or "Cold Gin," which might give Pearl Jam's Mike McCready an opportunity to guest with you.
Yeah, that was fun. He did a great solo.
Did you record any of the songs in in Vegas?
This time around, no. I recorded some tracks for Space Invader there. I'm trying to remember the name of my friend's studio.
There's a few around here. People record here on the down-low a lot. Which tracks did you enjoy recording the most?
I had a lot of fun recording. Having celebrity guests was really the most fun. I had Slash playing on "Emerald," Lita Ford on "Wild Thing." Paul Stanley, he's so busy I didn't really have a chance to be in the studio with Paul. He recorded it in his studio with his engineer and sent us the vocal. I'm thrilled with the way that song came out. What else … John 5 (a guitarist who's played with Marilyn Manson and Rob Zombie) was a pleasure to work with. I've known John forever, and he did some great soling on "Cold Gin" and "Parasite."
I think you had joked about Gene Simmons playing bass on the covers album a few years ago.
I originally called Gene several times and he never got back to me. I guess he was busy (laughs).
Yeah, but if you hear Paul Stanley you know it's Paul Stanley. I don't know if you can tell if Gene is playing bass, so it probably worked out for the best.
Paul's voice is very distinct. He's singing in a slightly lower register than you'd normally hear him sing, so it came out really tough and really soulful. I can't wait for everyone's reaction to "Fire and Water" because I just think it's top shelf.
Between Space Invader becoming a top 10 album in 2014 and "New York Groove" in heavy rotation on HBO due to its Entourage promotion, it seems as if Ace Frehley's public profile is at it's highest since the reunion tour 20 years ago. How does that look from your perspective?
I really can't go anywhere without getting recognized. It all kind of snowballed with being inducted into the Rock and Roll Hall of Fame (in 2014) and then the release of Space Invader, and I've been doing a lot of extensive touring over the last couple of years. So all that combines. Being in the press a lot gets your picture out there a lot on the Internet. Wherever I go I get recognized. I gotta pick and choose where I'm going, where I'm not going to get hassled—hopefully.
It seems like you have a higher profile than KISS right now, which may be the first time that's happened since Frehley's Comet (in the mid-'80s).
(Record label) eOne Music has a fantastic publicity department. With Space Invader it got me several covers of magazines, and it got me a lot of great interviews. I was on Jimmy Fallon last year. We performed "New York Groove." Things have just been escalating since the release of Space Invader, in combination with eOne doing a great job promoting me. Me making great records and touring on top of it, it just … everything's kind of exploding at this juncture.
You're voice sounds really good on Space Invader. You think you saved it by not singing more early in your career?
My voice is in much better shape than it used to be because I'm drug free (laughs). That's part of the reason. To be honest with you, I never practice vocals. If I'm not in the studio or I'm not touring, I'm never singing. I've only ever sang out of necessity. I've always said that. I've never really considered myself a lead singer, but since I don't have a lead singer in my band. I have to sing out of necessity but, you know, I guess my voice has been getting stronger and stronger from all this touring and making three records in the last six years.
If you hadn't joined KISS you might have been more up front as a singer.
(Laughs)
What do you see yourself doing once the 2016 tour is complete? Do you have musical ideas or directions to you want to explore?
I think I'm just going to keep doing what I've been doing, doing great shows. I'm real happy with my touring band I perform live with. I've got Richie Scarlet on guitar, Chris Wyse on bass and Scot Coogan on drums. Last year we went to Europe and did the Download Festival in England. We did Sweden Rocks, and we also performed at Hellfest outside of Paris in France. So we got a ton of exposure, besides touring Australia and New Zealand.
Richie Scarlet was a member of Frehley's Comet, so obviously you have a strong musical rapport with him. Can you tell me about the other guys in your band?
I first met Chris in 2009 while I was doing an instructional video. It's funny, because we talked about it recently that upon our initial meeting we had a feeling that we were going to do something down the road. At the time I was locked into my old bass player and Chris was working with The Cult, so it was prohibitive as far as us being able to tour together. Things with The Cult weren't working out for Chris and I was looking for a new bass player, and I got Chris to play on some tracks on Space Invader. After that went so well I invited Chris to come on tour with me and he's been with me ever since.
Yeah, he's got an impressive resume. (Wyse has recorded with Mick Jagger and Ozzy Osbourne.)
Yeah, and I worked with Richie in the '90s, and Scot Coogan has been in my touring band since 2007. He used to be in Brides of Destruction with Nikki Sixx. I stopped touring for a while and he took another gig, and I ended up picking up Matt Starr, who played a lot of drums on Space Invader. I believe he did three tracks on this new covers record.
Has the shift in the music industry toward musicians making most of their living through live performing in the industry been good for you?
I'm such an established star that I don't pay too much attention to what's happening in the music business. I've always done what I do. I've always had my audience. KISS fans and Ace fans are very loyal. I don't pay too much attention to what's going on in the music business. I know it's in an upheaval. People aren't buying CDs like they used to, and records, because of the Internet downloading. Everything balances out eventually.
You were the last great Gibson player before they kind of went out of style for a while. I know you've had several signature models, but have you always remained faithful to Les Paul? Is that still your favorite guitar?
Yeah. Les Pauls are the shit. Recently the Gibson Custom shop released the third Ace Frehley model. They did a reissue of my '59 Les Paul. I think I'm one of the few guitarists that have had three signature models.
I think you're right. It's pretty rare that anyone gets two.
I got back from Europe and it was like Christmas. Christmas in the summertime, because there were like 11 Les Pauls at my house waiting for me.
"Merry Christmas, Ace!"
It was pretty crazy.
You've talked publishing a follow-up to No Regrets. Is there an episode going into the next book that you can give us a preview of?
I don't want to give away any previews of No Regrets 2, but I'm working on it. When I have time I'm working on it. I'm always writing notes down, because during the course of the day invariably a story will pop into my head that I have to jot down on a piece of paper so I won't forget it, because there's just so many stories. I've lived such a colorful life I could probably write five books. I'm trying to finish it up by the end of the year.