21.10.2017 12:53:44
Original KISS guitarist Ace Frehley comes clean on rock riffs and reunions
October 20 2017 - 10:30PM
Chad Watson
Match-up: Ace Frehley will perform as a guest of seminal shock rocker Alice Cooper at Newcastle Entertainment Centre on Tuesday, October 24, 2017.
ROCK 'n' roll has saved Ace Frehley from self-oblivion more than once.
It's kind of difficult for the original "Spaceman" from KISS to remember exactly how many times.
Life on the road with the biggest band in the world can be like that.
Even more so in the "hottest band in the world", as KISS still bill themselves after almost 45 years! (Cynics would suggest the band overheated long ago, then reheated and overheated again).
Frehley's first rock 'n' roll rescue came in the mid-1960s while he was still living with his family in the Bronx, where he grew up. He had been running with a gang called the Ducky Boys, daring to be dangerous, fighting in the street and dabbling in all sorts.
Now the Ducky Boys may sound quirky, quacky even, but they were serious. Deadly serious. Remember the cult film The Wanderers? Well, the Ducky Boys featured in that.
"That was a long time ago," Frehley, now 66, tells Fairfax Media.
"I was growing up in the Bronx, you know, being in a gang and getting in trouble with the police.
"A lot of crazy shit went down. Luckily, I got out of it unscarred. When I started playing in bands, it got me away from that negative element.
"And it did save my life."
   When I look back at all the mistakes I've made, I feel I had to get through those mistakes to get where I am today … that's why I don't have any regrets.
   Ace Frehley
Music helped Frehley escape the street violence but, in some way, he's been fighting ever since.
First it was battling for survival in the music industry, then when he made it big (huge even), he had to contend with the ugly side of celebrity while duking it out with his own demons and knocking himself around with alcohol as well as prescription and illicit drugs – not to mention the supposed long-running KISS civil war over recognition, riches and reparation. Now he's fighting for his legacy, or at least his lawyers have been, and a bright future.
Having graduated from the Ducky Boys of the mid-1960s, Frehley played in countless musical collaborations before transforming into the Spaceman. Bands and gangs, he noted, were both dominated by young men eager to prove themselves, with time to spend and testosterone to burn.
"Hopefully there's more camaraderie inside a band," he says. "I mean, hopefully you're not going to have fist fights or pull knives on others."
Hopefully.
Thumbing a ride: Frehley, at left, has quit KISS not once, but twice. It's been 16 or so years since he was officially a member of the band.
Frehley last performed with KISS on their "farewell" tour of Australia in 2001. His departure from the band climaxed with him punching their tour manager in the head after a backstage disagreement. He tried to apologise, but it was too late. (Frehley had quit once before, returning from a 14-year spell after bridges were tended, rather than mended).
Within months, the manager he belted, Tommy Thayer – a guitarist who played in a KISS tribute band – had taken Frehley's spot (and Spaceman persona). And he's still there!
It has been 16 or so years since Paul Daniel "Ace" Frehley was an official member of KISS but, in the minds of fans, he will always be part of the band. He was there when KISS formed in New York City back in 1973. That was 100 million albums ago. He was there too when they each created and adopted the larger-than-life characters that conquered the world with their Broadway-meets-Halloween shock rock show.
The Spaceman emerged alongside frontman Paul Stanley as the Starchild, bass player Gene Simmons as the Demon and drummer Criss as the Catman (What was with those feline features? No wonder we all wanted to be Ace! Didn't we?).
With their heavy make-up, lycra costumes, platform boots and relentless marketing, the quartet turned a gimmick into a game-changer, imagination into immortality, and those characters into a corporation.They donned it all with a straight, albeit, painted face, while singing suggestion-laden, air-punching anthems such as Rock and Roll All Nite and I Was Made For Lovin' You.
Strutting their hairy chutzpah in front of an exploding band logo, they broke box office records set by The Beatles, and they did it all with enough fireworks to make every night seem like New Year's Eve.
Frehley, by the way, designed that logo (with the double S swapped for lightning bolts). He was also the one who put pyrotechnics in his signature Les Paul guitars, the one who sold the most solo albums and the one who wrote the best songs (see disclaimer of bias above).
He is smarter and funnier than ex-bandmates give him credit for, although you have to wonder if he regrets forfeiting his claim to the current KISS business empire.
Frehley's certainly grateful to be alive, having once worried about living beyond 30. If he didn't quit KISS – that first time, in the early 1980s – he felt he would never pull out of his spiral into drink, drugs and car crashes.
"When I look back at all the mistakes I've made, I feel I had to get through those mistakes to get where I am today . . . that's why I don't have any regrets," he offers.
The rallying call "You wanted the best, you got the best" blasts from amplifiers before every KISS show. Some foot soldiers in the KISS Army might argue the band got the best out of, then perhaps the better of, Frehley. The guitar hero himself reckons the remaining originals, Gene Simmons and Paul Stanley, were more interested in making money than making music.
They have been overly successful at both. According to Forbes magazine, the blood-spitting, tongue-wagging and fire-breathing Simmons is worth $300million. The pouting, prancing and pointing Stanley manages to get by with almost half that. Remove the platform boots and they're still well-heeled.
Like the Wiggles, who updated the bodies in the skivvies, KISS could go on forever by refreshing the musicians behind the masks. The brand behemoth has more than 2500 licences, extending to golf courses, funeral caskets and pinball machines. (My wife wonders why we still have KISS action figures – not dolls! – in a box in our garage. After all, our 13-year-old son has long outgrown them. Hopefully, she's been with me long enough to realise I shouldn't have to explain. Hopefully).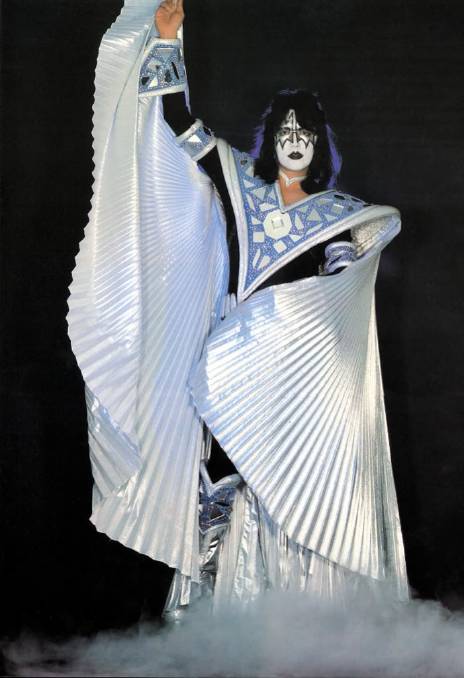 Alien axeman: Frehley designed his own Spaceman character for KISS, including the make-up.
Frehley and fellow reformed party animal Peter Criss the Catman could be accused of having been more interested in making mayhem than money. Life-long teetotallers Simmons and Stanley dropped them from their KISS-mas card list long ago. They even refused to perform live at their Rock 'n' Roll Hall of Fame induction, suggesting the others either weren't up for it or up to it.
Ace, in returning serve, has called them "dirty rotten whores". He's also blasted Tommy Thayer and new drummer Eric Singer for being imitations (does that make the latter a Criss copycat? Sorry).
"In sobriety, you embrace accountability, and I can't deny that my drinking and drug use eventually became highly disruptive and problematic," Frehley explains in his biography, No Regrets: A Rock 'n' Roll Memoir.
"But some of the personal jabs have been harder to take, partly because we were all friends at one time, and we did something so remarkable . . ."
Remarkable, indeed!
And please don't feel too sorry for Frehley. He's been clean for 11 years and happens to be in "a really good space". That space is Rancho Santa Fe, in San Diego, where he lives with fiancee Rachel Gordon. The zip code has the highest family income in the United States. Neighbours include Microsoft founder Bill Gates, weight-loss doyenne Jenny Craig, Beach Boys singer Mike Love and superstar golfer Phil Mickelson.
"The people in this area don't bother one another because all of their houses are $3million and up," Frehley says, without a hint of boast. "When we go to a restaurant, everyone respects one another's privacy."
The Spaceman, minus the suit, will unpack new songs when he lands with Alice Cooper for the "rock event of the year" at Newcastle Entertainment Centre on Tuesday, October 24.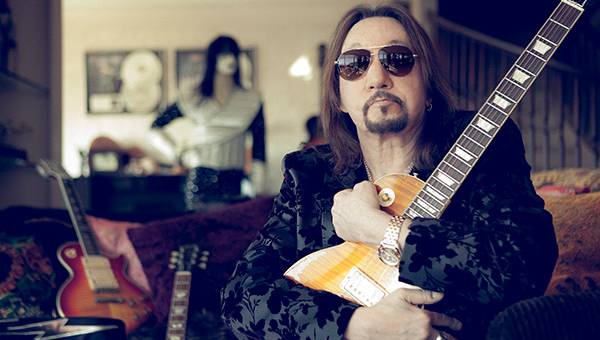 Home stretch: Frehley has been working on an album of fresh material in his home studio in the salubrious town of Rancho Santa Fe, in San Diego.


Frehley has been recording an original album in his home studio, which he built last year.
He's even KISS-ed and made up with an old sparring partner: "I had Gene Simmons over a few weeks ago working on two songs and that was a big treat, and it will be a bigger treat for the fans."
They buried the axes long enough to share a stage at a charity gig last month, with Simmons later unveiling he will bring his own solo project (and merchandise!S) to Australia in February.
Pending a Paul Stanley kibosh, KISS Inc might just have one more Ace up their sleeve, and he's the real deal. "We're all getting along great and whatever happens in the future happens," Frehley says with a cackle.
A final reunion could be on the cards.
Hopefully.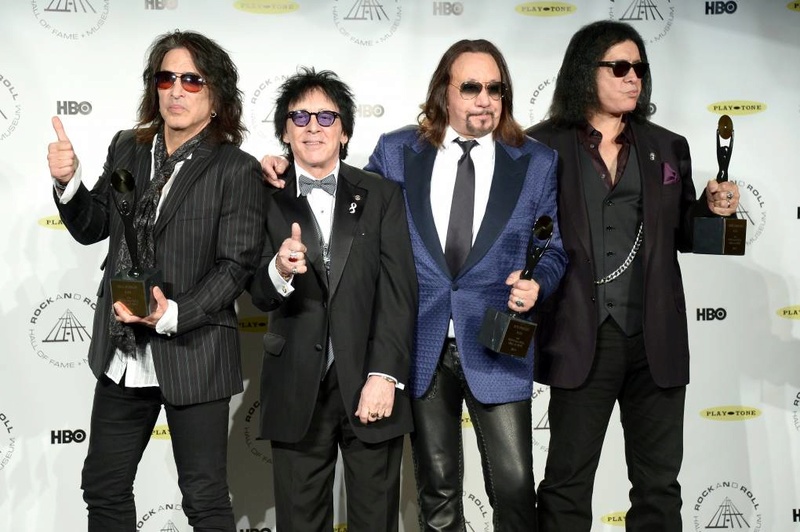 Originals and best: Paul Stanley, Peter Criss, Ace Frehley and Gene Simmons are Rock 'n' Roll Hall of Fame inductees.