Ca bouge du côté des Tatts ! Enfin, disons plutôt de leurs fans. Il y a une pétition en cours pour que Albert Production sorte un DVD sur l'histoire du groupe, ce qui serait un bel hommage !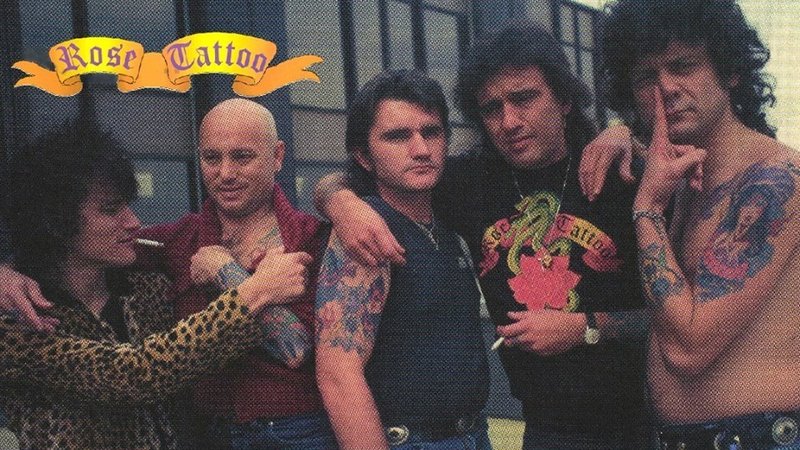 As the band Rose Tattoo are coming to an end after an amazing 39 years fans are left wanting more.
A DVD Box Set would be a great tribute to Rose Tattoo. A band that helped shape the sound of Australian Music in the 1970's. As previously seen in the recent 'Blood + Thunder: The Sound Of Alberts' documentary shown on the ABC. "They played so loud the world listened" – ABC iView.
The fans have expressed what they would like to have in the Box Set. That is to see the Rose Tattoo Documentary made by Lucy Desoto that Screened at the 2008 Melbourne International Film Festival to an enthusiastic crowd. Along side old footage of the band and old film clips.
Arthur Mulloy (Creator of Change.org petition) along with Rachel Baxter (Rose Tattoo social media manager / Merchandise Girl) and Alex Green, Werner Poeschl (creators of Rose Tattoo Fan Group) are combining forces and getting the word to Albert's Music that The Rose Tattoo fans want more in the form of a DVD Box Set.
"This would be a great tribute to a band that didn't get the real recognition that it deserved as the best Australian band ever and this band has a place in Australia's history and played a big part in shaping the Australian music industry." – Arthur Mulloy
"There are thousands of Rose Tattoo fans that don't want to see them end.
If the feedback we have received is anything to go by, there are fans as young as 16 years old signing the petition along side the dedicated fans that have followed Rose Tattoo for almost 40 years." – Rachel Baxter
Please Albert Music. Please release a Rose Tattoo Box Set DVD.
This would make a great 40th year celebration presentation.
La pétition :
https://www.change.org/p/alberts-music-produce-a-boxed-dvd-set-history-of-rose-tattoo?recruiter=38482685&utm_source=share_petition&utm_medium=copylink
Plus d'infos :
http://www.rosetattoo.com.au/index.php/News.html
https://www.facebook.com/RoseTattoo
Ce serait sympa de votre part de la signer (ça prend 1 mn) et de faire circuler l'info sur les autres forums et vos Facebook.
Merci à tous :bien: