Flashback: Kiss Play Their Final Classic-Lineup Show
This 2000 gig in South Carolina marks the last time that Gene Simmons, Paul Stanley, Ace Frehley and Peter Criss played together
By Andy Greene February 11, 2016   
Kiss' original four members played together for the last time ever on October 7th, 2000, in South Carolina.
Kiss' 2000 farewell tour was winding down when drummer Peter Criss got some news that absolutely shook his world: Guitarist Ace Frehley was getting paid $50,000 a show – a full $10,000 more than Criss' own salary. "It was the most devastating blow of my professional life," Criss writes in his memoir, Makeup to Breakup: My Life In and Out of Kiss. "I was so hurt I thought I was going to have a heart attack."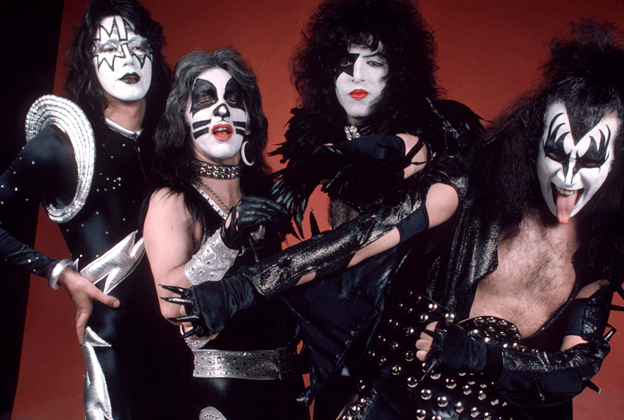 " />
Kiss Forever: The Rolling Stone Cover Story »
Seven shows were left on that leg of the tour, but Criss was preparing to pack up and head home. Lawyers began frantically negotiating a new deal that would keep him on the road; to show his disgust with the situation, Criss began taking the stage with a teardrop painted onto his face. "In prison, a teardrop signifies that you're tough because you had killed someone," he wrote. "But to me, it meant that they had fucked me over. I knew that our fanatical fans would be pick up on such an alteration of my makeup, especially when its up there on the JumboTron screen."
The tour limped to a close on October 7th, 2000, with a show at the North Charleston Coliseum in South Carolina. The set finished with "Rock and Roll All Nite," after which Paul Stanley started smashing his guitar. Criss' drum riser was still suspended in the air, and he responded by kicking all of his drums to the floor. "Everyone stood up and cheered and Paul thought the cheers were for him until he turned around and saw a huge tom-tom coming down at him," Criss wrote. "So he took his guitar, threw it down on the stage, and walked off."
When the tour resumed the following March with a tour of Asia and Australia, Eric Singer was now behind the kit, wearing Criss' signature cat makeup. The final show of that tour was April 13th, 2001, at Carrara Stadium on Australia's Gold Coast. It marked the last time that Ace Frehley played with Kiss. When the band returned to Australia in 2003, promoters insisted that three out of four original members appear on the stage; Frehley wasn't going to come back at that point, so Kiss reluctantly invited Criss to rejoin. As soon as those shows wrapped, the drummer left for good.
That means the last time all four original members of Kiss performed together was the North Charleston show in 2000. Sadly, this was before the camera cellphone era, so there's no video record of the show floating around. There was a taper in the audience, however – and you can hear the entire show right here.
It's difficult to imagine any sort of future Kiss reunion today, especially after their Rock and Roll Hall of Fame fiasco in 2014. But just this week, Ace Frehley announced that Paul Stanley plays on his upcoming solo album, Origins Vol. 1. Peter Criss doesn't make an appearance – though at least they're back on speaking terms after the salary revelation on the 2000 tour. Most people would be quite happy making $40,000 for two hours' work, after all – at least until they learn the other guy is getting $50,000.